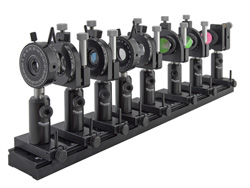 We are pleased to announce new and updated Femtokit series optical components for efficient third harmonic (~266 nm) generation of femtosecond Ti:Sapphire lasers.
Femtokit series harmonic crystals are optimized for particular pulse spectrum width and duration. Optimization of thickness of harmonic crystals allows to avoid femtosecond pulse broadening in frequency conversion process.
All kits include special group delay compensation plate for fine delay adjustment/compensation between fundamental and second harmonic pulses before entering third harmonic generation crystal.
THG Femtokits are optimized for particular pulse duration lasers at the range from 15 to 200 fsec.
Basic series Femtokits include only four basic crystal components mounted in to 1 inch ring holder. While Extended series Femtokits include additional four optical components for convenient beam control. As an option we can provide all components mounted in to positioning mounts which are fixed on optical rail.
Harmonic crystals are provided in Femtokits as standard with 6x6 mm apertures and are suitable for beam diameter up to 4mm. For higher power Ti:Sapphire lasers with larger beam diameters we can offer special Femtokits with crystal's apertures 10x10, 12x12, 15x15 and 20x20 mm.