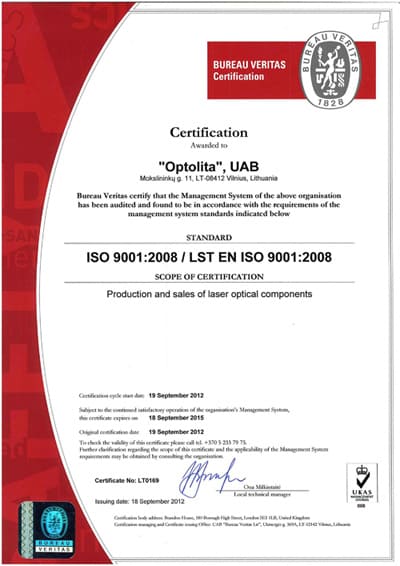 Optolita UAB doing business as EKSMA OPTICS, a manufacturer of optical components, nonlinear & laser crystals, Pockels cells and other laser optical components is proud to announce, that our production and sales procedures correspond to the requirements of ISO 9001:2008 standard.
Bureau Veritas, global leader in quality assurance, has audited EKSMA OPTICS and starting from 19th of September, 2012 certifies "that the Management System of the Optolita UAB has been audited and found to be in accordance with the requirements of the management system standard ISO 9001:2008/ LST EN ISO 9001:2008 in the scope of Production and Sales of Laser Optical Components".
ISO 9001:2008 certification affirms our pursuit of delivering reliable components through quality management and our continuous strive for excellence. We are proud to be the first Lithuanian manufacturer of laser optical components to achieve ISO 9001:2008 certification.
"Optolita UAB" ISO 9001:2008 certificate is valid until 18th of September 2015.