About Us
EKSMA OPTICS is a manufacturer and global supplier of precision optical components, optical systems, laser & nonlinear frequency conversion crystals, opto-mechanics and electro-optical Pockels cells with drivers used in lasers and other optical instruments.

Starting its first activities in the world of lasers in 1983 The Company has been built on long term of expertise in the laser and optics fields.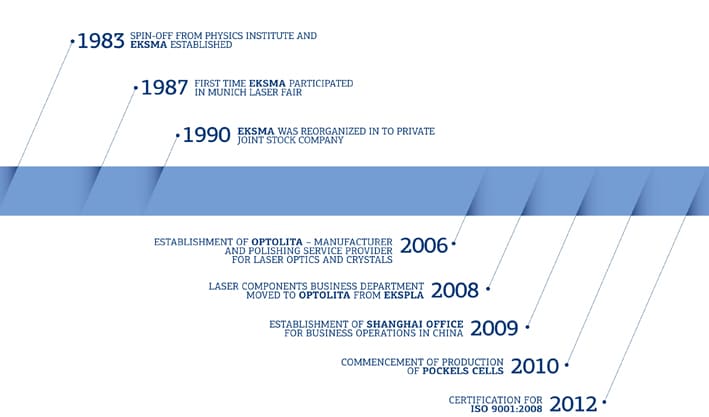 Our laser components are used across different laser and photonics applications in scientific, industry, medical and aesthetic, military and aerospace markets.

The applications of the laser components offered by our company cover a wavelength spectrum from the UV (193 nm) through VIS to IR (20 μm) and at Terahertz (1-20 THz) ranges.

EKSMA Optics polishing facility specializes in the processing and final polishing of flat optics made of BK7, UVFS, Infrasil, CaF2 and also DKDP, LBO, ZnGeP2 crystals whereas high quality precision polished faces are required for high power laser applications.

All components provided by the Company are subject to high quality testing and certifications in Quality Control Laboratory.

EKSMA OPTICS serves to provide flexible and technical solutions to varied laser components customers requirements, which can often be quite challenging and is most receptive to providing new products where necessary, meeting customer specific applications.

The Company also actively participates in national and international Joint Research Projects.

EKSMA OPTICS (legal company name Optolita UAB) is ISO 9001:2008 certified. Certification issued by Bureau Veritas.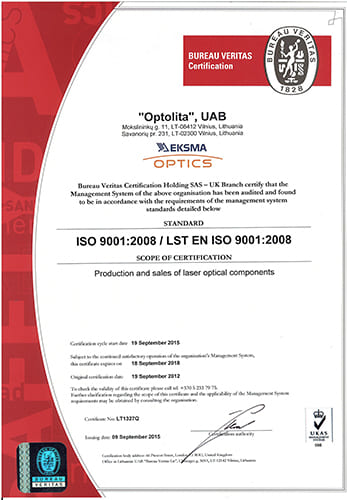 EKSMA OPTICS is a member of: