Coherent sources in the mid-IR domain have potential applications in molecular spectroscopy, biomedicine, and remote sensing. Laser systems with CdSe crystal have obvious advantage – much broader tuning range [1-3]. In the difference-mixing of the output of parametric oscillator in CdSe to obtain the phase matched 9.4-24.3 µm tuning range [5]. CdSe crystal has its band edge in the near infrared and shows transmission far into the infrared. The long wavelength limit determined by the onset of lattice absorption 1.5 cm-1 @ 24.3µm.
There is also a narrow impurity absorption centered at 18.5um which varies from one crystal to another. As a nonlinear optical material, CdSe crystal was explored for OPG, OPO and DFG in 1970's [4,5]. First of all, picoseconds pulses tunable from 10 to 20 µm were produced [6]. Furthermore, CdSe was also used to achieve megawatt peak power in the range of 8-13 and 7-12 µm, based on OPG and OPO respectively [7,8].
Sellmeier equations [4]: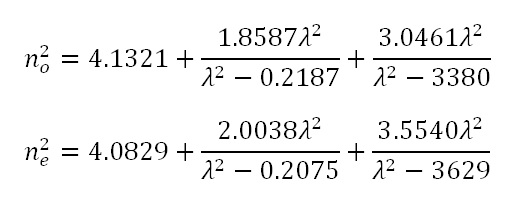 Where λ is in microns.